About the Foundation Members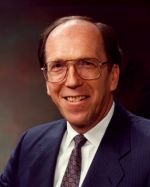 Hugh J. Swain, P.Eng., SM IEEE
Oshawa, Ontario, Canada

Hugh J. Swain graduated from the University of Toronto with a BASc in Electrical Engineering in 1960.
Upon graduation, he was employed by RCA Limited, Technical Products Division (later SPAR Aerospace) in Montreal as a design engineer in the antenna group. He joined Andrew Canada Inc. of Whitby, Ontario in 1962, where he spent 29 years in various appointments including Chief Electrical Engineer, Vice President Sales and Marketing, General Manager, and President. He also held corporate responsibilities with Andrew Corporation of Orland Park, Illinois managing microwave antenna product design and manufacture in the USA, Canada, Great Britain and Australia. He retired from Andrew in 1992.

He has been a member of the Professional Engineers of Ontario since 1963 and has been a member of the Institute of Electrical and Electronics Engineers (IEEE) since 1958, first as a Student Member and later as a Senior Member. His activities with the IEEE included Chairman of the 1983 Electrical and Electronics Conference and Exposition (Electronicom,) and General Chairman of the 1986 International Conference on Communications. He served continuously for 27 years as a member of the board of IEEC Inc., then the IEEE Canadian Foundation, ending in 2008 when he was elected an emeritus member.

His community activities included ten years as a member of the Board of Governors of the Whitby General Hospital. He has served on the executive of the Durham Region Manufacturers Association and on various church boards and committees.