About the Foundation Members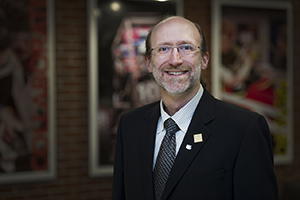 Dr. Dennis K. Peters B.Eng. (Memorial), M.Eng., PhD (McMaster), FEC, SMIEEE, P. Eng.
Department Head, Electrical and Computer Engineering
Memorial University of Newfoundland
St. John's, NL, Canada

Dr. Dennis Peters is an Associate Professor and Head of Electrical and Computer Engineering where he has been a member of Faculty since 1998. His research involves techniques for design and verification of software and computer systems, with particular focus on high performance computing, real-time applications and parallel or distributed processing.

Dr. Peters is an active volunteer in the professional engineering community in Canada. He is a recent Past Chair of the Board of Directors of the Professional Engineers and Geoscientists of Newfoundland and Labrador (PEGNL) and serves on the Canadian Engineering Qualifications Board (CEQB) and IEEE NL, taking the role as Chair beginning June 2015.

His teaching activity is primarily in the area of software, ranging from introductory programming courses to advanced topics such as real-time operating systems and concurrent programming.

When he can get away from his work, he enjoys spending time with his wife and two children. As weather and schedule permit he enjoys sailing his C&C 30 Sea Plus Plus around the beautiful bays of Newfoundland.

He is a recipient of the PEGNL Teaching Award 2011 and the IEEE J. J. Archambault Eastern Canada Merit Award 2010, and is a Fellow of Engineers Canada.