About the Foundation Members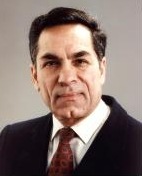 Om P. Malik, P.Eng., LF IEEE
University of Calgary
Calgary, Alberta, Canada

Professor Om P. Malik has done pioneering work in the development of adaptive and artificial intelligence based controllers for application in electric power systems over the past thirty years. After extensive testing in the laboratory and in actual power systems, these controllers are now employed on large generating units.

Professor Malik has also done extensive work in the area of power system protection, particularly digital and artificial intelligence based protection schemes. He has published over 550 papers including almost 300 papers in international Journals.

Professor Malik graduated in 1952 from Delhi, India. After working for nine years in electric utilities he returned to academia and obtained a Master's Degree from Roorkee University, India in 1962, a Ph.D. from London University and a DIC from the Imperial College, London in 1965.

He was teaching and doing research in Canada from 1966 to 1997 and continues to do research as Professor Emeritus at the University of Calgary, Canada.

Om Malik has been doing volunteer work for IEEE for over 35 years at the Section, Council, Region and IEEE corporate level. More recently he was Secretary of IEEE Canada for three years and Editor of the Canadian Journal of Electrical and Computer Engineering for five years. Currently he is Past President of IEEE Canada and a director of the IEEE Canada Foundation. He was a member of the IEEE Fellows Committee, member of IEEE Foundation and Chair of the IEEE Life Members Committee. He is now a member of the IEEE Employee Benefits and Compensation Committee.

He is also actively involved in the IEEE Power Engineering Society. In addition to chairing technical subcommittees, he is at present Chair of the IEEE PES Energy Development and Power Generation Committee.

Professor Malik is a Fellow of the Engineering Institute of Canada, Canadian Academy of Engineering, Institution of Engineering and Technology, Engineers Canada, World Innovation Foundation and a Life Fellow of IEEE. He has received many awards from IEEE, EIC and APPEGA and the University of Calgary. He is a member of the Association of Professional Engineers, Geologists and Geophysicists of Alberta and Professional Engineers Ontario. Professor Malik has been also actively involved in the International Federation of Automatic Control and was Chair of the IFAC Technical Committee on Power Plants and Power Systems Control.