About the Foundation Members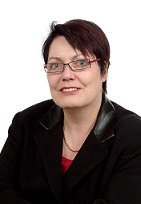 Maike Luiken, Ph.D., SM IEEE, F-EIC
Dean,
Sustainability and Applied Research
Lambton College of Applied Arts and Technology
Sarnia, ON

Maike Luiken obtained her Staatsexamen in Mathematics and Physics from the Technical University in Braunschweig, Germany (1979) and her Ph.D. in Physics from the University of Waterloo (1982).

Maike has over 30 years of professional experience in teaching, research and educational administration, community and network building and especially in connecting industry partners, government agencies and researchers in advanced technology projects. She has worked in both the public and private sectors in Canada, the USA (Tufts University) and Germany. Maike is a founder of the Ottawa Photonics Research Alliance (OPRA), the Ottawa Wireless Research Alliance (OWRA) and is a member of numerous boards including Unmanned Vehicle Systems (UVS) Canada, the Sarnia Lambton Chamber of Commerce and the Colleges Ontario Network for industry Innovation (CONII). Her areas of expertise include sustainable development, advanced data communications, leadership and management of research projects in College and University environments, development of educational simulations and leading edge on-line learning modules.

Maike is a SMIEEE and a Fellow of the Engineering Institute of Canada. She served as chair of the Ottawa Section in 2005 and is currently the chair of the London Section. She chaired the IEEE Canada Student Activities Committee in 2003 and 2004. She joined the IEEE Canadian Foundation in 2009 and is a member of the Student Liaison Committee.