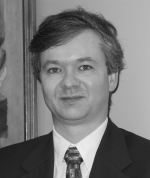 Eric Holdrinet, MBA, Senior Member IEEE
CRIM
Montréal, Québec, Canada

Eric Holdrinet a complété un BSc en Informatique à l'Université de Sherbrooke en 1987 et un MBA en Marketing International de l'Université McGill en 1995. Il a travaillé pour une firme de consultation en logiciel pendant huit ans et depuis 1996 pour le Conseil national de recherches Canada, conseillant les petites entreprises sur des sujets d'affaires et techniques. Il peut aussi jouer aux échecs et de l'accordéon.
L'implication d'Eric comme volontaire IEEE a démarré en 1988 avec la vice-présidence du Chapitre Computers de la Section de Montréal, et a continué ainsi vers la présidence de Section en 1994, 1995 et 2000, Editeur du Journal de Section, du Site internet, etc, et président en 2003 du IEEE Conseil de l'est du Canada. La Région et le Conseil de l'Est du Canada ont apprécié sa collaboration à divers projets. Il s'est vu décerner la Médaille du Millénaire du IEEE, et en 2002 la Médaille d'Argent du Mérite du IEEE Conseil de l'est du Canada.
---
Eric Holdrinet completed a BSc in Computer Science from Université de Sherbrooke in 1987 and a MBA in International Marketing from McGill University in 1995. He worked for a software consulting firm for eight years and since 1996 for the National Reseach Council of Canada, advising small companies on high-tech and business issues. He can also play chess and the accordion.
Eric's involvement with IEEE started in 1988 with the vice-chairmanship of Montreal Section's Computer Chapter, and went on from there to Section chairmanship in 1994, 1995 and 2000, Newsletter Editor, Webmaster, etc, and IEEE Eastern Canada Council chairman 2003. He was awarded an IEEE Millenium Medal and in 2002 the IEEE Eastern Canada Council Silver Merit Award.