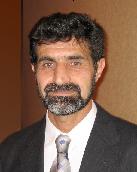 Anader Benyamin-Seeyar P.Eng., SM IEEE, EIC Fellow
Montreal


Since March 1985 he has been working for advanced technology companies such as Le Groupe SMi International, Apollo Microwave, ISR Technologies, PolarSat Inc, ART Advanced Research Technologies, Harris Corporation (Montreal), Vistar Telecommunications, Spar Aerospace/ComStream (or MDA Corporation), and Bell-Northern Research (BNR) in the areas of satellite and terrestrial communications, wireless indoor/outdoor personal communications, high speed multi-media networking, computer communications and telephone systems. His main research interests are towards the advancement of various satellite/wireless/terrestrial communication networks, mobile Ad-Hoc networks, Wireless Active Sensor networks for Aerospace, & communication protocol engineering.

In parallel, he is being also a part-time Affiliate Associate professor since 1987, teaching a graduate course and running research work that was supported by individual NSERC Canada grant and FCAR group research grant.

Ph.D. in Electrical Engineering, Concordia University, Montreal, Quebec (1985)
M.Eng. in Electrical Engineering, McGill University, Montreal, Quebec (1979)
B.Sc. in Electronics Engineering, Iran University of Science & Technology, Tehran, Iran (1973)

COMMITTEES/BOARDS:

Chair, IEEE Teachers In Service Program (TISP) Committee of Canada.
Member of External Activities of IEEE Canada.
Member of the IEEE Canadian Foundation Committee (ICF) program.
Awards & Nomination Committee, IEEE Montreal Section
Representative, IEEE Canada at upcoming 2014 Section Congress in Netherlands.

REGIONS:
Member of IEEE Pre-University Educational Committee (EAB PECC). SECTIONS/CHAPTERS:
Chair of IEEE Montreal Section (2007 & 2008) and Secretary of the Section (2006)
Chair of the Communications & Information Theory Chapter of the IEEE Montreal Section, since Dec. 2008
Winner for Chairing "IEEE ComSoc Montreal Chapter won 2012 Chapter of Year Awards"
Chair of Nomination & Awards Committee of IEEE Montreal Section, from Jan. 2009
Under his leadership, Section's successes in attracting more IEEE Members by 13%.
Also, IEEE Montreal Section was successful in promoting and contributing in membership elevation from Member to Senior Membership activities.
During 2007-2008, IEEE Montreal Section was an active Section and was able to create more Chapters (BTS, VTS, IES, and TMS), activating Affinity groups (GOLD, Life Members, and WIE) before they become inactive for too long.
Awarded with the IEEE MGA Leadership Award for 2008
Led IEEE Montreal Section to win IEEE Canada's Large Section Award for 2008
Led creation of Sister Sections between Montreal, Boston and Maine Sections

STUDENT BRANCHES:
Re-activated Student branches in Montreal
Organized mini-conferences for students preparation attending conferences
Ran many student competitions and a lot of attendees at these events.

SOCIETIES:
Senior Member of the IEEE, since 1991.
Member of the IEEE Canadian Foundation Committee (ICF) program in 2012.
IEEE Member of Communications society, since 1979
IEEE Member of Microwave Theory and Technology (MTT) society, since 2011.
IEEE Member of Information Theory society since 1979 until 2002.

CONFERENCES:
Steering Committee member & Technical Session Chair for 2013 IEEE Wireless Conference on Wireless for Space & Extreme Environments, November 2013, Baltimore, MD.
Steering Committee Chair and Symposium Chair for 2012 IEEE Canadian Conference on Electrical and Computer Engineering (CCECE 2012), was held in May 2012, in Montreal.
Organized two national 1½ day workshops on Teaching in Service Program (TISP), held for the first time in Canada, May 2009, Montreal and the second event in April 2011, Mississauga, Ontario
Steering Committee member, Newsletter Editor & Ham Radio Activity Chair for 2012 IEEE International Microwave Symposium 2012 (IMS 2012), June 2012.
General (Host) Chair of Fly by Wireless Workshop 2011 (FBW11), held in June 2011, at Concordia University.
Steering Committee member & program manager for 2007 & 2009 IEEE Electrical Power and Energy Conference (EPEC), held October 2007 & 2009, in Montreal.
Technical Program Committee (TPC) member of SERA2010/2011 and CNSR2010/2011, in Canada.

OTHER: He has also been actively involved in contributing to the development of the IEEE 802.16a standard for Broadband Wireless Access (BWA) Air Interface (Wireless MAN).