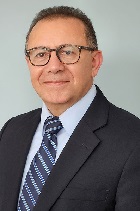 Wahab Almuhtadi, Ph.D., P.Eng., SM IEEE
Professor, Algonquin College
Ottawa, Ontario

Dr. Wahab Almuhtadi is a professor at the School of Advanced Technology, Algonquin College, in Ottawa, Ontario, Canada. He is also the Research and Development Coordinator at the Faculty of Technology and Trades, Algonquin College. Dr. Almuhtadi conducting several research projects including QoS Optimization using Adaptive Intelligence Techniques in Satellite Systems ($2.8M), Remote/Rural WiFi Networks ($100k), Remote Objective Monitoring of Biosignals ($470k), Traffic Engineering in WiMAX Network ($400k), Advancing Photovoltaics for Economical Concentrator Systems ($3.6M), and Automated Solar Powered Evaporative Air Cooler ($48K). He has played a leading role in research at Algonquin College, in projects funded by IC, CIDA, NCIT, ORDCF, OCE, PRECARN and submitted and presented technical papers at many related conferences. He supervises final year students helping them carry out their research projects with the involvement of local industries. Dr. Almuhtadi also organizes projects in which students work with scientists and inventors at NRC and CRC.

Dr. Almuhtadi is the founder and designer of a complete Leading-Edge Optophotonics Lab, with SONET/SDH (Nortel /Algonquin College $5M project). In this lab he gives students the opportunity to work with state-of-the-art short haul and long haul telecommunications equipment, setting up intercity and intercontinental high capacity communication pathways.

Wahab Almuhtadi has a Ph.D. and M.Sc. in Electrical Engineering from Brno University of Technology (Vysoké ucení technické v Brne), Czech Republic. He is a Certified Professional Electrical Engineer of Ontario. Dr Almuhtadi has more than 16 years university and college teaching experience at both the undergraduate and graduate levels. He also has more than 22 years in electrical engineering and telecommunication industries including R&D. Prior to Algonquin College, Dr. Almuhtadi worked with Nortel as a Team Leader and Senior Verification and System Engineer in Optical Networks Verification, R&D Metro Optical Solutions. Prior to that, he worked as a Director of Operations with Canspect Corporation Canada. Also, he was a consultant with J.L. Richards & Associates Canada. With the Ministry of Electricity and Water in Yemen, Dr. Almuhtadi was the Advisor to the Minister on Technical Affairs and holds several positions as a Director of Research and Development Department and a Deputy Director of Planning, Statistics and Control Department.

Dr. Almuhtadi worked as Adjunct Professor in the Electronics Department at Carleton University, Canada. He was a part time professor with the University of Sana'a, Electrical Engineering Dept., in Sana'a, Yemen.

In the Czech Republic, Dr. Almuhtadi worked as assistant professor in the Faculty of Electrical Engineering Technical University of Brno; also, he worked as a researcher with the Research Institute for Electric Power Engineering (EGU), Brno.

Dr. Almuhtadi is a Senior Member of the Institute of Electrical and Electronics Engineers Inc. (IEEE). He is actively involved in IEEE and holds many positions. He served in 2007-2008 as the Chair of the IEEE Ottawa Section (more than 2500 members), currently he is the Chair of IEEE Canada Eastern Area, Chair of Ottawa IEEE Communications Society, Broadcasting Technology Society & Consumer Electronics Society Joint Chapter, Chair of Ottawa IEEE Power and Energy Society Chapter, Chair of the Ottawa Section Award Committee, and Counsellor Mentor of the Algonquin College IEEE Student Branch. Dr. Almuhtadi is also serving in the North America Board -IEEE Communication Society. Dr. Almuhtadi has organized and chaired many local and international engineering conferences, symposia, and workshops. Dr. Almuhtadi received many engineering and recognitions awards from IEEE and academia.