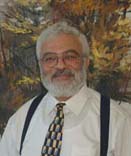 Mohamed E. El-Hawary, Ph.D., P.Eng., FIEEE, FEIC
Professor of Electrical Engineering, Dalhousie University
Halifax, Nova Scotia, Canada

Dr. El-Hawary is Associate Dean of Engineering and has been Professor of Electrical and Computer Engineering at Dalhousie University since 1981. He has a Bachelors degree in Electrical Engineering, Distinction from the University of Alexandria, Egypt, 1965, and a Ph.D. from University of Alberta, Edmonton, 1972, where he was a Killam Memorial Fellow.
He served on faculty, and was chair of the Electrical Engineering Department at Memorial University of Newfoundland for eight years. He was Associate Professor of Electrical Engineering at the Federal University of Rio de Janeiro for two years and was Instructor at the University of Alexandria. He pioneered many computational and artificial intelligence solutions to problems in economic/environmental operation of power systems. He has written ten textbooks and monographs, and 120+ refereed Journal articles. He has consulted and taught for 30+ years, is a Fellow of EIC and IEEE, and the Canadian Academy of Engineering (CAE).
Mo has been a member of IEEE since 1968 and a very active volunteer in IEEE - in the Newfoundland and Labrador Section, IEEE Canada, the Power Engineering Society, and the IEEE Board of Directors. He has been awarded the IEEE Canada General A.G.L. McNaughton Gold Medal, the IEEE Educational Activities Board Meritorious Achievement Award, and the IEEE Power Engineering Educator of the Year award. In May 2010, he received the IEEE Canada W.S. Reid Outstanding Service Medal.
He is a past president of IEEE Canada, and a past Secretary of IEEE.