About the Foundation Members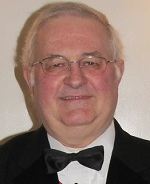 Luc C. Matteau, P.Eng., SM IEEE
L. C. Matteau Associates
Peterborough, Ontatio, Canada

Luc C.Matteau, P. Eng. completed his degree from the Queen's (Electrical Engineering - 1969), holds a Professional Engineering License and is a Senior Member of the Institute of Electrical and Electronics Engineers (IEEE).

He has over 40 years of engineering, design and management experience in the power, control and telecommunications industry in Canada, holding positions of design responsibility at Canadian General Electric, Milltronics (now Seimens Canada) , Messier-Dowty and Lindsay Electronics Ltd. Over this period much effort was directed towards the development of high power AC-DC coverters for the metal processing industry, precison instrumentation for the control of cement and coal, steering and control systems for the aviation industry and power passing and RF control devices for the CATV and telecomunications industry.

He set up L.C. Matteau Associates in 1995 and is the president and principal engineer. The focus of his business is "Developing Electronic Solutions", specializing in providing power conversion and electronic control solutions for industry.

He has served IEEE over the past 30 years at the Section and Region level. In 2003 he was awarded the M.B. Broughton Central Canada Merit Award. At present he is the Treasurer of the IEEE Canadian Foundation.


---

Luc C.Matteau, P. Eng. gradué de Queens (génie électrique - 1969), possède un permis d'ingénieur professionnel et est membre Senior de l'institut des ingénieurs en électricité et en électronique (IEEE).

Il possède plus de 30 années d'expérience en génie, conception et gestion dans l'industrie de puissance, du contrôle et des télécommunications au Canada, occupant des positions de responsable de la conception à Canadian General Electric, Milltronics (maintenant Seimens Canada), Messier-Dowty et Lindsay Electronics Ltd. Pendant de cette période, beaucoup d'efforts ont été mis sur le développement des convertisseurs de puissance AC-DC pour l'industrie de transformation du métal, de l'instrumentation de précison pour le contrôle du ciment et du charbon, des dispositifs de direction et contrôle pour l'industrie de l'aviation et les dispositifs de contrôle RF pour l'industrie du câble (CATV) et des telecomunications.

Il a créé L.C. Matteau Associates en 1995, dont il est le président et l'ingénieur principal. Ses affaires sont centrées sur "les solutions de développements électroniques", se spécialisant dans les solutions reliées à la conversion de puissance et au contrôle électronique pour l'industrie.

Il a été au service de l'IEEE pendant plus de 30 ans au niveau de la section et de la région. En 2003 il reçu le Prix au mérite de M.B. Broughton du conseil du centre du Canada. Actuellement il est le trésorier de la Fondation de Canadien de l'IEEE.