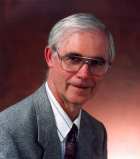 Raymond D. Findlay, Ph.D., FIEEE, FEIC
(IEEE 2002 President)
Consultant in Electric Power Engineering
Ancaster, Ontario, Canada

Ray Findlay, is a practising engineer (P.Eng., Ontario) and Vice-President of JDRF Electromag Engineering Research, Inc., a Canadian company involved in electromagnetic power devices and equipment, energy systems, and development of new electromagnetic drives and separators. The company's principle mandate is research and development.
Ray is also a professor at McMaster University, where he teaches electrical machines at both the graduate and undergraduate level. For the past several years, Ray has also taught a course on communication skills, including interpersonal, group and team skills, conflict resolution and technical writing.
Ray's technical interests include the subject of low frequency electromagnetic fields and losses in electrical power devices. He has more than 150 technical papers in the area, most in IEEE Power Engineering, Magnetics, or Industry Applications Publications. He also holds 4 patents in the area. Ray is a Fellow of both IEEE and the Engineering Institute of Canada. He is the recipient of an IEEE Millennium Medal, the Canadian Region Merit Award, and the Canadian Pacific Railway Engineering Medal from the Engineering Institute of Canada in 1998 "in recognition of many years of service and leadership."
For more information about Ray, please see his personal website