About the Foundation Members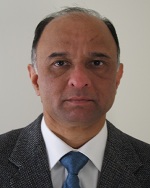 Pankaj Sharma, P.Eng., M.Tech., SMIEEE
Chief Electrical Engineer Bantrel
Edmonton, Alberta, Canada

Pankaj Sharma obtained his B.Sc. in Electrical Engineering from University of Delhi, India in 1980 and his M.Tech. in Energy Studies from Indian Institute of Technology, New Delhi, India in 1992. He is a registered Professional Engineer in Alberta with APEGGA and in Saskatchewan with APEGS.

Pankaj has over 30 years experience in electrical engineering of projects in Power, Oil & Gas (Onshore & Offshore), Petrochemical, Chemical and Metallurgical Industry. He has worked as Department Head, Lead Electrical Engineer and Project Engineer/Manager on projects for multinational organizations in various countries.

Pankaj is a Senior Member of IEEE. He has served as Chair of IAS/PES Chapter of Northern Canada Section (NCS) in 2006 and 2007 and Vice-Chair in 2005. Currently he is Chair of Awards/Recognition Committee of NCS. He has been Secretary of Delhi Section (India) in 1987 and 1988 and Treasurer in 1991. He has volunteered to help organize many IEEE National and International Conferences in India and Canada. He bacame a member of the IEEE Canadian Foundation in 2010.