About the Foundation Members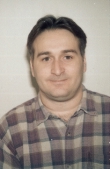 Christian Pepin, SM IEEE



Christian Pepin has a B.Sc, and M.Sc. in Physics from UQTR in 1983 and 1985, a Ph.D. in Physics from Laval University in 1990, a M.Sc in Applied Science in 1991, and a B. Eng. in Electrical Engineering from UQTR in 1997.

He is employed by Hydro Quebec at the Nuclear Power Plant in Gentilly.

He is the webmaster for the French web pages of the IEEE Canadian Foundation and has provided many translation services for both IEEE Canada and the IEEE Canadian Foundation. He has served as the Trois Rivieres Section Chair.