About the Foundation Members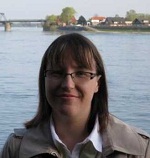 Lori Hogan SM IEEE
Project Engineer, C-CORE
St. John's, NL

Lori graduated from Memorial University of Newfoundland with a Bachelor of Engineering (Computer) degree in 2003. She is almost finished a Masters of Engineering focusing on image analysis.

Lori has worked as a Project Engineer with C-CORE since January 2005. C-CORE is an R&D corporation that creates value in the private and public sectors by undertaking applied research and development, generating knowledge, developing technology solutions and driving innovation. Currently, Lori works in algorithm development with the Radar and Vision Systems group, creating scripts and programs to solve unique client problems related to remote sensing, inspection, system controls and image analysis. She is also involved in project management and conference organization.

Outside of work, Lori enjoys running, yoga, and raising her young son. She promotes the profession through outreach whenever possible, through work with IEEE Newfoundland-Labrador Section (where she served as chair in 2010-11) and Women in Science and Engineer Newfoundland-Labrador. Lori was the recipient of the IEEE Canada Women In Engineering Prize in 2006. She joined the foundation in 2011.