About the Foundation Members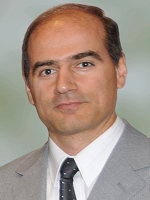 Amir G. Aghdam, Ph.D., P.Eng. 2016-2017 Past President, IEEE Canada
Professor
Department of Electrical and Computer Engineering
Concordia University
Montréal, Québec, Canada

Amir Aghdam received the Ph.D. degree from the University of Toronto in 2000 and worked as a development engineer at Voyan Technology, Santa Clara, California, from 2000 to 2001. He joined Concordia University in 2002, where he is currently a Professor in the Department of ECE and the Associate Dean for Student Affairs and Postdoctoral Studies, School of Graduate Studies. Amir is an Associate Editor of the European Journal of Control, IET Control Theory & Applications, and Canadian Journal of ECE. He was the General Chair of the 2013 ACM Research in Adaptive and Convergent Systems Conference, and a keynote speaker of the 29th ACM Symposium on Applied Computing. In 2011 he received the J.J. Archambault Eastern Canada Merit Award, and in 2009 he received an IEEE MGA Achievement Award for promoting section collaboration. He was a Review Committee member for Italian Research and University Evaluation Agency (2012-2013), and a member of Natural Sciences and Engineering Research Council of Canada ECE Evaluation Group (2013-2015).

Amir is a member of Professional Engineers Ontario, and an Associate of Harvard University.

He is a recipient of the 2013 Teaching Excellence Award and 2008 Young Research Achievement Award in Concordia University's Faculty of Engineering and Computer Science. He was inducted as a Professional into the IEEE-HKN honor society in 2015, was elected as a Fellow of the Engineering Institute of Canada in 2014, and inducted to the Provost's Circle of Distinction, Concordia University, in 2014.